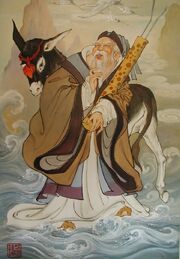 One of China's Eight Immortals. According to legend he was an advisor to Emperor Yao, who himself was a legendary emperor that supposedly ruled China nearly four thousand years ago. He appears in
Hammered
as part of the group trying to kill
Thor
. He is surprisingly adept at combat (surviving an extended dual with Tyr and coming out of it with only bruises) and favors using iron rods to immobilize targets with pressure point attacks. He is after Thor because the Thunder God tricked him into killing and eating his beloved donkey with the promise of resurrecting it later. Thor left him stranded while laughing, never intending to bring the donkey back. 
Ad blocker interference detected!
Wikia is a free-to-use site that makes money from advertising. We have a modified experience for viewers using ad blockers

Wikia is not accessible if you've made further modifications. Remove the custom ad blocker rule(s) and the page will load as expected.