Home
Talk

0
42pages on
this wiki

Characters . Locations . Items

Thus far in the saga of The Iron Druid Chronicles, four books have been published, with two set for release in the next year. Set in an urban fantasy universe in Tempe, Arizona, the story is built upon the premise of existence of magical and supernatural species, primarily witches, vampires, werewolves and various pantheons of Gods and Goddesses (albeit in hiding). The series is told in the first-person point-of-view of Atticus O'Sullivan, a Druid who owns and runs an occult bookshop, as he gets imbroiled in the day-to-day struggle of Gods and Goddesses and other supernatural creatures.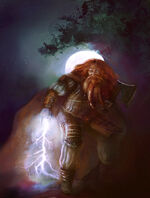 In Slavic mythology, Perun is the highest god of the pantheon and the god of thunder and lightning. His other attributes were fire, mountains, the oak, iris, eagle, firmament (in Indo-European languages, this was joined with the notion of the sky of stone), horses and carts, weapons (the hammer, axe (Axe of Perun) and arrow) and war. In The Iron Druid Chronicles, Perun appears in the third book, Hammered, to assist Atticus O'Sullivan and others in their quest to defeat Thor.

Read More...

(Artwork by Coyoteart)

Which book is your favorite so far?
Who is your favorite member of Atticus' crew in the 3rd book Hammered?
Are you excited for Trapped to get published?
Create blog post
Woohoo! Trapped, the fifth book in The Iron Druid Chronicles, has finally been released! For long time fans of Kevin Hearne, it seems like this one is just as good as the rest. In Trapped, fans are brought twelve years after Atticus O'Sullivan goes in…

Read more >

For Iron Druid Chronicles fans, I'm sure that you all know the next book in the series is coming out in just a month! For people new to the series, here is a starter's guide to prep you for the release. Prepare yourself for ancient magic, gods, and m…

Read more >
See more >