Brigid is the Irish Goddess of poetry, fertility and the forge. She is married to Bres. Other name variations include Brighid, Brid, Brigan and Bride.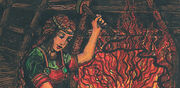 Role in Hounded
Edit
In Hounded Brigid is in a power struggle with Aenghus Óg, and forces Atticus to fight him by getting Flidais to kidnap Oberon and Hal and blaming it on Angus.
Ad blocker interference detected!
Wikia is a free-to-use site that makes money from advertising. We have a modified experience for viewers using ad blockers

Wikia is not accessible if you've made further modifications. Remove the custom ad blocker rule(s) and the page will load as expected.